Dakhil Assignment 2021: The Directorate of Madrasah Education Board Bangladesh published Dakhil assignment 2021 of exam 2022 for the class 10 4th 1st & 2nd 3rd week. Today the authority released its 1st-week assignment mainly for the Dakhil 10th class. Dakhil assignment (দাখিল এসাইনমেন্ট ২০২১) 2021 includes Bangla & Math assignment for this first week. As we here published the answer to this Dakhil all subject class assignment. So read this full post & collect or download the Dakhil all-class assignment solution.
[adToAppearHere]
You may know before publishing this assignment, Madrasah Board published a new short syllabus for the Dakhil exam 2022. But for the pandemic still, all the school institute in our country has been turned off. So it is very expected of publishing this Dakhil assignment. Finally, the Madrasah Education Board authority released assignment syllabus 2021 for the 1st week on their website today. As our website, www.BdNewResults.com published here assignment answer with the question.
[adToAppearHere]
Dakhil Assignment
Madrasah Board authority announces a new notice regarding the new assignment of Dakhil. According to their notice, this Dakhil assignment is based on Dakhil Short Syllabus 2022 what they published earlier. This assignment will continue with a total of 8 subjects including Bangla, Math, English, Physics, Science, Bangladesh and Global Studies (BGS), Geography, and Environment & Business Entrepreneurship. 
[adToAppearHere]
The authority also said that this assignment will help students as this based on Dakhil Examination 2022 short syllabus. So this assignment is very important for the students of Class 10. By doing this assignment in madrasah class 10 students will get a lot of benefits from it. They also will get a chance to prepare themselves according to their new short syllabus for the 2022 exam.
Download- Dakhil Alim Short Syllabus 2022 Pdf-দাখিল আলিম সংক্ষিপ্ত সিলেবাস
Dakhil Assignment 2021 1st Week 
Are you looking for the 1st week Dakhil assignment syllabus question? Then you are in the right place to collect it. As we here also provide the answer for you to download. Madrasah education board published its assignment syllabus for the Dakhil class, 10 students. This 1st week they published Bangla & Mathematics subject assignment. You will find it on our website.
[adToAppearHere]
Due to coronavirus authority released this assignment. And now all the dakhil students have to prepare this assignment subject. Many of you don't know the exact time when the assignment syllabus will publish. And finally, this assignment published and we added it here on our website with a post. Read the full post and collect all related information.
Dakhil Class 10 Assignment 2nd Week
After the dakhil class 10 1st week. Now authority released its 2nd week assignment 2021 of the exam 2022. Here we also published the 2nd week class 10 assignment for you. This time authority includes Math & Physics assignments for this second week. Class 10 students now need to complete this assignment. So here we also published the assignment answer. Anyone can come here and collect solutions to this class assignment.
[adToAppearHere]
Dakhil Class 10 Math 2nd Week Answer
From here download your Dakhil assignment 2nd week math answer pdf file. For your convenience, we added this answer for you.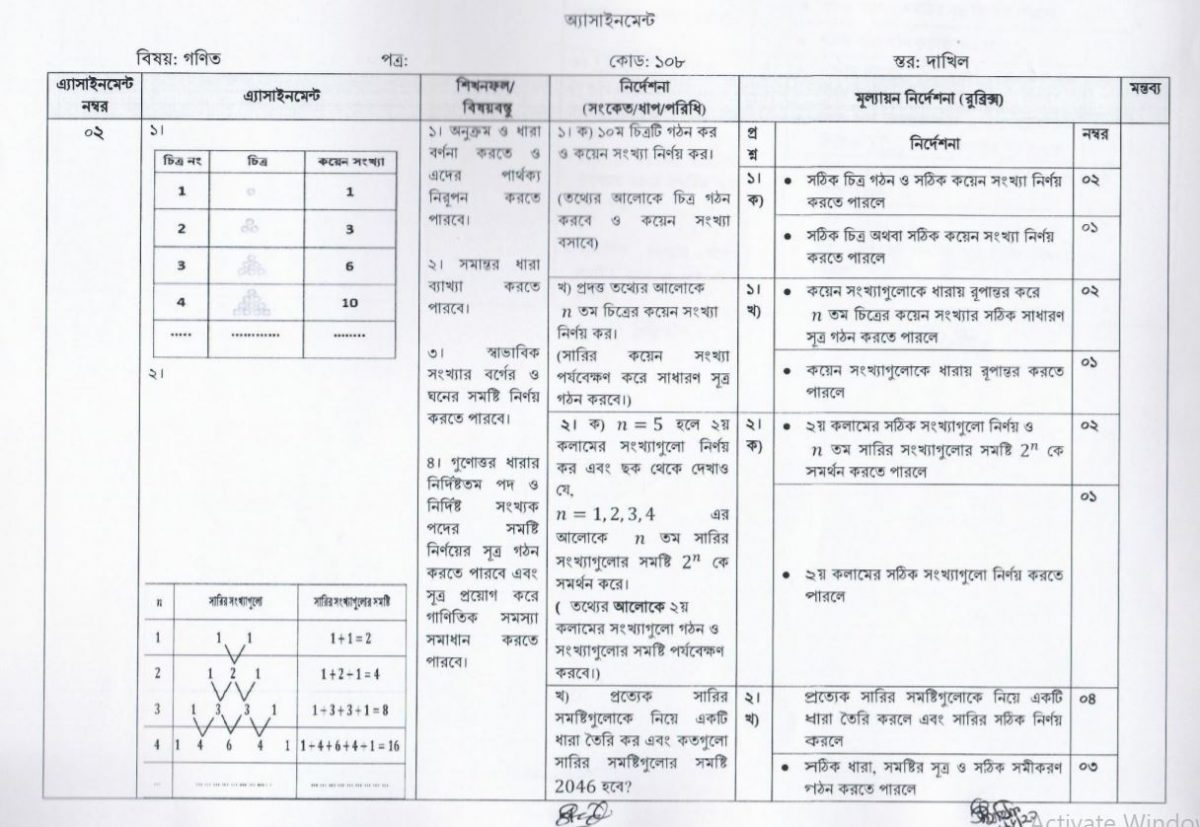 Answer:
[adToAppearHere]
Dakhil Class 10 Physics Assignment 2nd Week Answer
From the below, you can easily able to download Dakhil assignment 2nd week physics answer pdf file. So click the below link and collect the solution.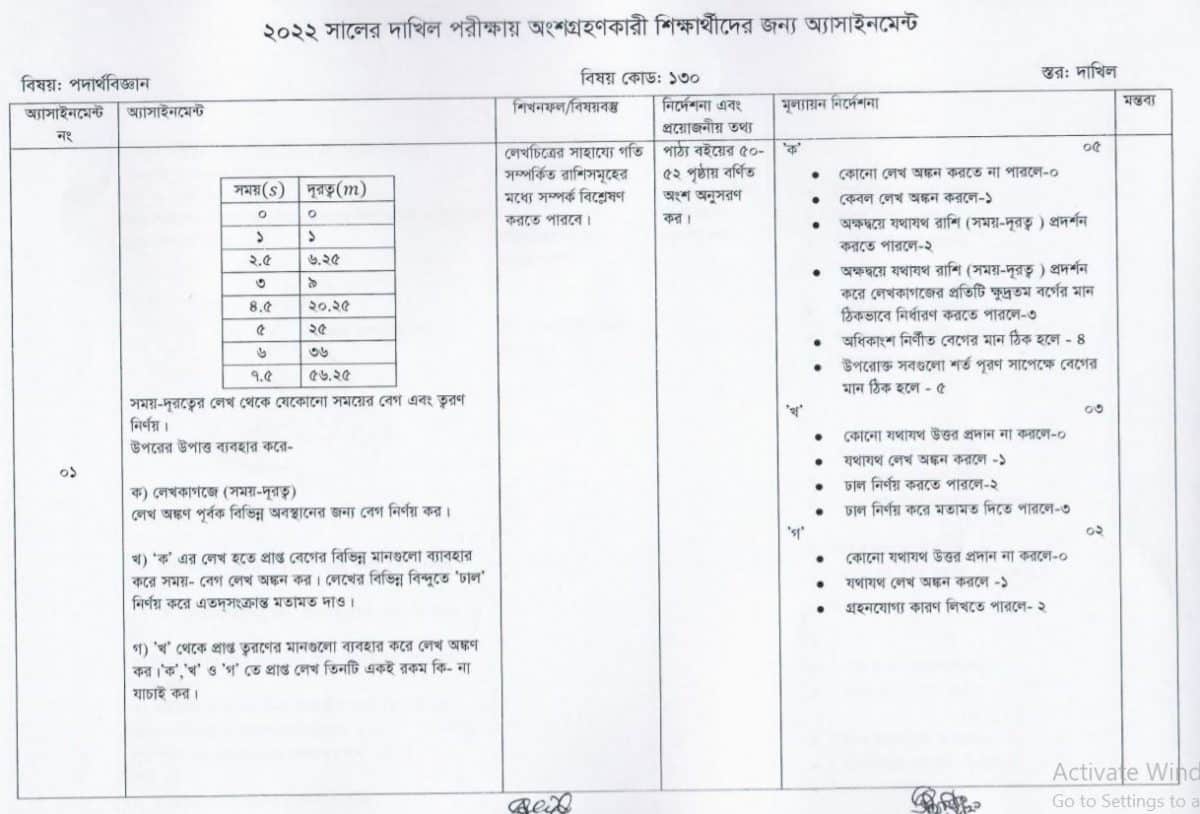 Answer:
[adToAppearHere]
Dakhil Assignment Answer 2021
Madrasah Board Bangladesh published the Dakhil assignment question. As we are here to publish the assignment answer to this question. From here Madrasah Board class 10 students will get a full idea of how to write this assignment answer. As we here already added the demo answer of this assignment. Reading this assignment post, all of you can collect answers and complete your assignment.
[adToAppearHere]
Our team member makes this assignment answer for our beloved madrasah students. But we always recommend you to read your textbook first. Then you will be able to answer your assignment subject on your own. If you don't understand the answer then only you can come here and collect solutions to complete the assignment. But without reading your textbook chapter or any preparation collecting our answers will not help you in the future. See solution from the below.
[adToAppearHere]
Dakhil Bangla Assignment Answer 2021
For the 1st week, the Dakhil Bangla assignment solution is available here on our website. Name Bangla 1st Paper Assignment, Subject Code: 134 Level: Dakhil. So all of you are eagerly waiting to collect your Bangla assignment answer. So here we come with the solution. All the answer of all week is given here is 100% authentic. This answer will help you to prepare your assignment subject.
[adToAppearHere]
1st Week Bangla Assignment: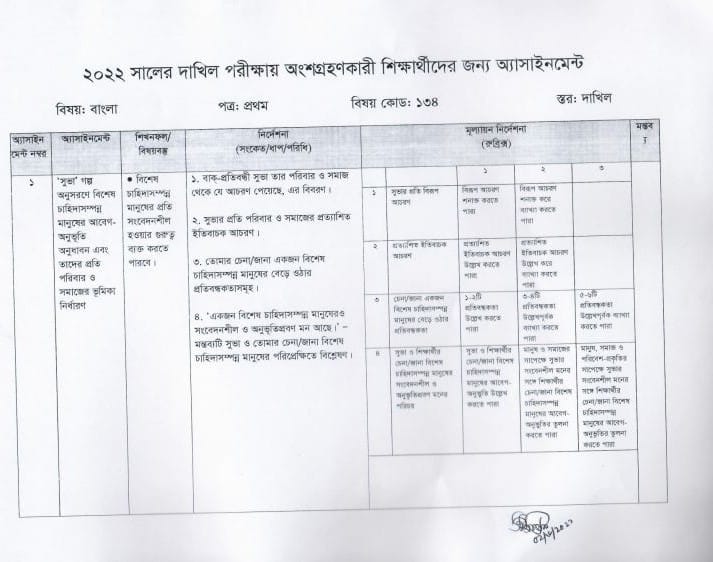 Answer:
[adToAppearHere]
(Answer will publish soon here)
We hope you already collect or download the solution to this assignment Bangla pdf. As we here uploaded all the solution which is real and help you to get good marks. We don't allow and upload here any miss information like solution. So for the answer perspective, you can trust us. So this is the post you may looking for to collect answers.
Dakhil Math Assignment Answer 2021
Mathematics is a very hard subject for most of the students in our country. As they afraid a lot to this subject. As madrasah Board gives this Math assignment to the Dakhil class 10 students. Now they all have to do this subject assignment. As there is no other option you will find. So for you we always for you. As we already added here the Math assignment answer or solution for you to download pdf. Check below and collect solutions to complete your assignment.
[adToAppearHere]
1st Week Math Assignment: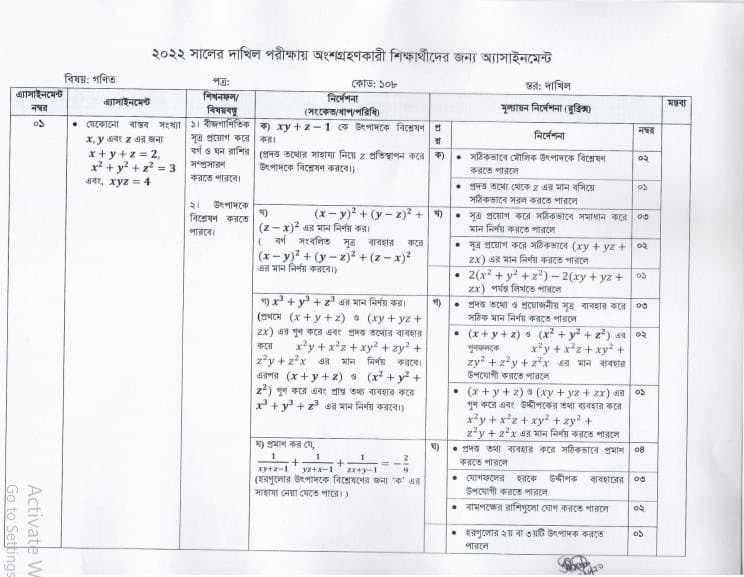 Answer:
[adToAppearHere]
From the above, you may already able to download your math assignment solution. This answer we collected from our trusted source. So you don't need to think about the quality of the answer. As we always say, we don't compromise with the quality. We always try to give you the best and authentic solution for your problem. As we here do exactly the same.
Upcoming Dakhil Assignment-
Dakhil English Assignment Answer
Dakhil Physics Assignment Answer
Science Dakhil Assignment Answer
Dakhil Bangladesh and Global Studies Assignment Answer
Dakhil Geography and Environment Assignment Answer
Business and Entrepreneurship Dakhil Assignment Answer
Dakhil Assignment Syllabus 2021 (Class 10)
The authority of the Madrasah Education Board will publish Dakhil assignments for class 10 students every week. There is a total of 8 subjects in this Dakhil assignment 2021. By doing this assignment, you will able to complete your Dakhil short syllabus 2022 for the exam. So collect assignment full syllabus pdf download. The answer to this assignment syllabus you will find here on our website. For more updated information about this assignment please stay with us.