Diploma & Vocational Sangsad TV Class Routine 2020 has been published by the Authority. The Technical authority just publishes a new notice about its Diploma and vocational students. This notice is about Sangsad tv class routine for them. This Sangsad tv class will continue till 24th September 2020 which starts 20th September. In this Sangsad tv live class Diploma, SSC and Dakhil students are can watch this. The title of this live class is 'TECHNICAL EDUCATION AT HOME'. This live class will be Broadcast on Sangsad TV because of the pandemic COVID-19. There is Three part of this Routine. This called the 1st Period, 2nd Period, and 3rd period according to this routine. You will get all the information about this routine on our website at www.bdnewresults.com. For getting all the information please keep reading this whole article or post. Because below, we are going to describe all the information in detail.
Sangsad TV Class Routine 2020
We all know that the class of secondary level students has been already started to broadcast on Sangsad TV since 29th March. Elementary Level Class also started to broadcast. In this case, The authority of Technical Education also going to start their Sangsad TV live class till 24th September for the Diploma and Vocational Students. The Technical authority already publishes its live class routine. 
Prime Minister Sheikh Hasina takes a brave step to teach students on TV during this pandemic virus situation. This decision of the prime minister implements by the Ministry of Education. It's a very necessary and positive step to keep going to the Education system of Bangladesh in this dangerous situation. Also Education minister Dr. Dipu Moni has also given a press conference about this. All the student's parents have welcomed this Decision of live TV Class broadcast on Sangsad TV. 
Diploma & Vocational Class Routine 2020
Above we mention this live class routine. There is a three-part of the class routine for different students. 1st period for Diploma and vocational students which class starts at 2:45 to 3:05.  One thing is that, If you think you are only doing this live class then you are wrong, because not only attend this class you have to complete all the homework given by the Teachers of this broadcast live class.  Also, there is other student's routine time in this routine of live broadcast class.  We will give all the information with the Routine picture below. Check all of this information about this Technical Education Routine from our website. We here provide all the valuable information about this. Hope you get many conveniences from it. 
Diploma & Vocational Live Class Online Routine PDF Picture Download
Live broadcast TV or online live class routine is available on our website. You can download this live class routine from here. The online live class is kickoff on about 14th September. We here provide This online live class routine as a PDF file and also a picture. You can download any of them or all the formats that your choice. SSC diplomas and vocational students can also download this routine. So don't wait for it anymore. Download its routine at free of cost from below.
Diploma and Vocational Class Routine PDF Download
The class routine of the Diploma & Vocational Sangsad TV Class Routine Students of Bangladesh is available here. Download it from below. We provide it for your convenience.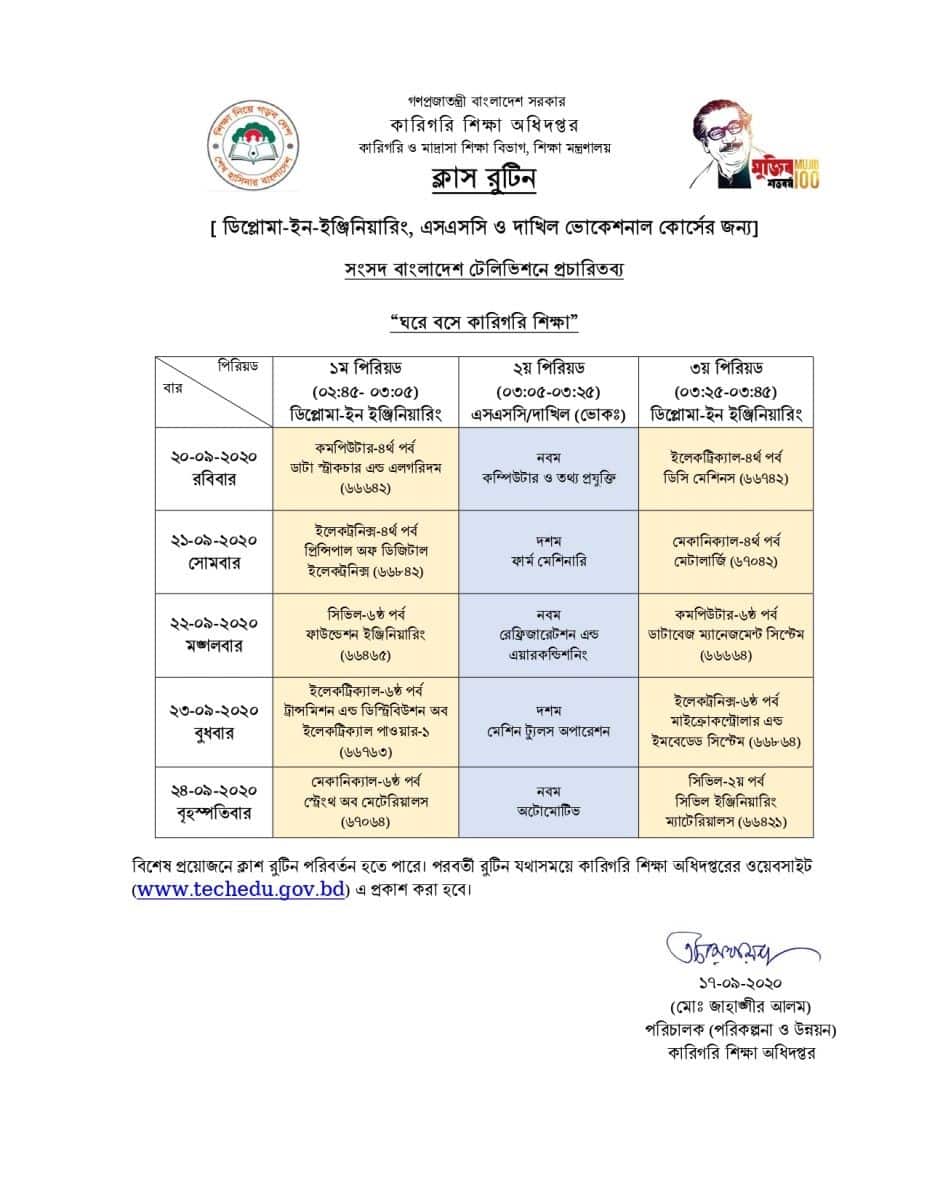 Conclusion
We try to give you all the information about this live class routine. Hope you enjoy it. Keep visiting for more updated news. Thanks to all. Have a nice day.
Also, check Diploma Admission Result 2020(Polytechnic 2nd Admission) btebadmission.gov.bd