Madrasah Dakhil Ibtedaye Assignment Download 2021. From here you can easily download your Madrasah assignment for the class 1 to 9. As the Madrasah board authority published its new assignment notice on their official website www.dme.gov.bd. For the covid-19 situation, the madrasah authority announces a new education system for the assignment. 1st assignment of madrasah students with evaluation guidelines in the light of rearrangement for the class of 1 to 9 has been published by the madrasah authority. You will find this assignment syllabus on our website.
মাদ্রাসা ইবতেদায়ি ও দাখিল শিক্ষাথীদের এসাইন্মেন্ট সিলেবাস ২০২০ দেখুন এখান থেকে। বিস্তারিত দেখতে পুরো পোস্টটি পড়ুন।
[adToAppearHere]
Madrasah Dakhil and Ibtedaye Assignment 2021
The authority of the Madrasah Board recently published its new notice about Dakhil and ibtedaye Assignment syllabus. They asked all the madrasah institute teachers to download it from their website and provide it to their students. After getting this assignment syllabus information all the dakhil and ibtedaye students have to make an assignment. You have to remember that for each of the subjects you have to make or prepare each assignment.
For doing All these assignments you have to follow the authority Directorate of Madrasah (DME) rules and regulations. Otherwise, you don't have allowed to submit it to your teacher.
[adToAppearHere]
As you know after the 16th march the madrasah education all class has been stopped till now because of the pandemic Covid-19. For that regular education, work has been under threat. For this reason, the scheduled syllabus of this Madrasah education not yet fully fill finished. So, to complete this syllabus the authority took these bold steps by shortened and rearranged this syllabus.
Dakhil Ibtedaye Assignment
The dakhil and Ibtedaye authorities took a new decision to complete their syllabus of 2021. As they released a new notice to all the teachers and their institute to start this assignment syllabus system. For this pandemic situation all the schools, colleges, universities have taken off. Following this, all the madrasah institute class has been also stooped.
At this moment the madrasah odhidoptor introduces a new education system called assignment for its students of Dakhil and Ibtedaye. They already released its assignment short syllabus to make their own class all subjects assignment. Students need to make an assignment following the authorized rules and give it to their respective school teachers.
[adToAppearHere]
After getting this assignment from students, the teacher then gives marks according to this student's assignment performance. These assignment marks will help students to get promoted to the next class.
The authority already provides all syllabus of this assignment. You just need to download it from our website and according to it, you have to read all includes topics. This topic of this assignment syllabus is taken from your Text-Book. So, find out this short syllabus chapter from your textbook of this assignment short syllabus and you need to read well. After reading this chapter topic then you have to make an assignment. Each subject has each assignment.
For more details read this full post. We added images, pdf files, and links where you can click and easily download your class assignment syllabus.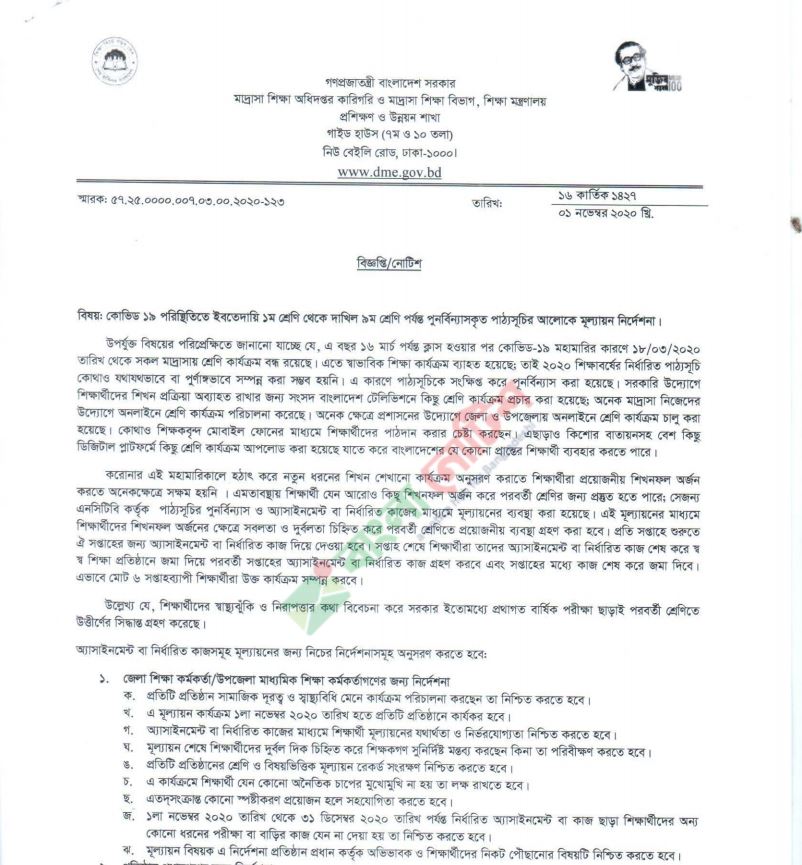 [adToAppearHere]
For more information download this full notice- Click to Download Notice
Madrasah Notice Board Assignment
Recently Madrasah board released a new notice board about their Dakhil and Ibtedaye class 1 to 9 new short assignment syllabus. The authority asked all teachers to download this assignment syllabus to provide this all-important notice about the assignment to all students of Dakhil and Ibtedaye.
Students have to make this assignment to get promoted to the next class following this assignment marks which will be given by the institute teachers. 
For more information about how to start making assignments, assignment syllabus, assignment question answer, and other related things you have to read this whole article carefully.
For making this assignment you need to make a cover page for each subject. Check out this link and download your assignment cover page and get some ideas.
[adToAppearHere]
Assignment Cover Page Download
[adToAppearHere]
Or you can follow this post and other posts related to this assignment from our website.
Madrasah Class 1 to Dakhil 9 Assignment Download
From here you can easily able to download your Madrasah class 1 to Dakhil 9 assignment. You can also download your ibtedaye assignment from here on our website. We here to give you the full information about this madrasah assignment.
You just need to read this article, collect all information, and click all the links we provide to get the assignment syllabus and assignment answer. Also, you will find here the madrasah dakhil ibtedaye assignment-making process.
Now you have to download your madrasah class short syllabus to make an assignment reading this. Click below to download this syllabus from here.
[adToAppearHere]
Madrasah Short Syllabus Download
[adToAppearHere]
And it is time to download your desire Madrasah Class Assignment Question or Syllabus. Remember short syllabus and assignment syllabus are completely two different things. These two things are not the same. So you have to download both of them from the below link. Let's go for download.
[adToAppearHere]
Madrasah Assignment Class 1 to 9 Download
[adToAppearHere]
Hope you understand all these things. If you have any questions related to this then you can make a comment below this post comment box. We are ready to give you the answer. For more information keep visiting this website of BD NW RESULTS